Disclamer: There's not too many "rough fish" in this post, but it was fun so I thought I'd share!
I grew up in Idaho and there's certain times of the year when I just have to go back there and fish. Early October is one of those times for me; the steelhead are usually biting like crazy, there's fall chinook in the rivers, and various other possible species to chase if you wanted to, plus the crowds aren't too bad the because deer and elk seasons are in full swing.
As October drew nearer I started getting antsy so I decided to head out to one of the rivers close to home here in Washington to see if I could take advantage of the record fall Chinook run this year. I absolutely LOVE throwing spinners and spoons for big fish, plus I had to make sure my gear was still in working order for my trip to Idaho! I hit the Yakima River a few evenings and I actually managed to catch some fish! This may not be too surprizing given that this is a fishing forum, but if you knew how bad I am at salmon fishing, it would be!
The first fish I brought to hand wasn't quite what I had expected to catch on a big #5 Vibrax spinner, but it was my new personal best mountain whitefish! I thought maybe it was a lake whitefish at first just because of how big it was. Check out that monster adipose fin - it's bigger than my thumb!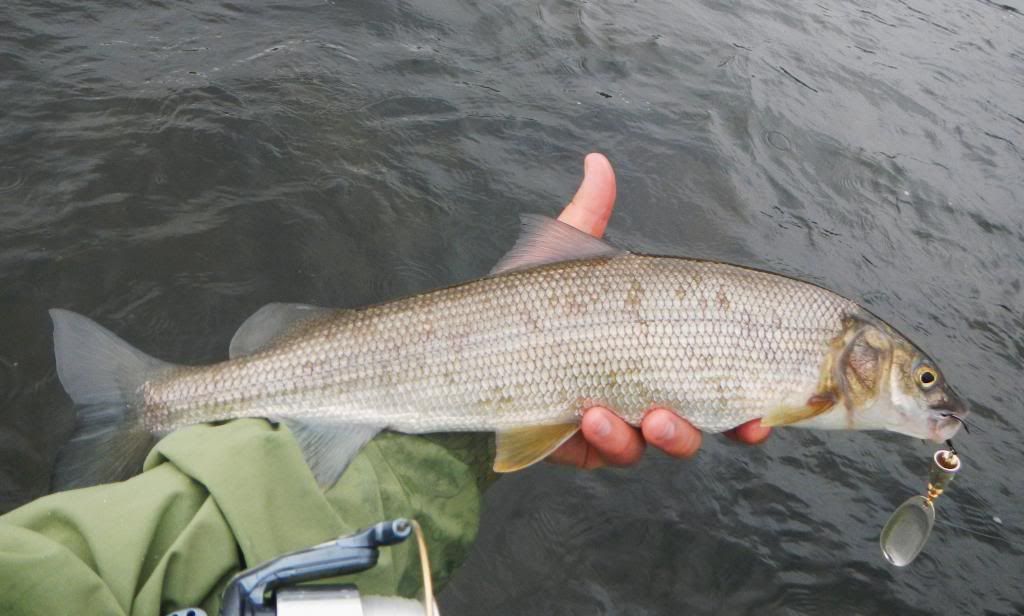 It wasn't long before I started tying into my intended species. I lost more than I landed, but I don't like to eat them so to me the best part is the bite and the fight; if I don't have to handle them to unhook them, all the better for everybody involved!  This dark female was one of the ones I landed and my biggest Chinook ever and she put up a heck of a fight, jumping several times and bull-dogging me forever!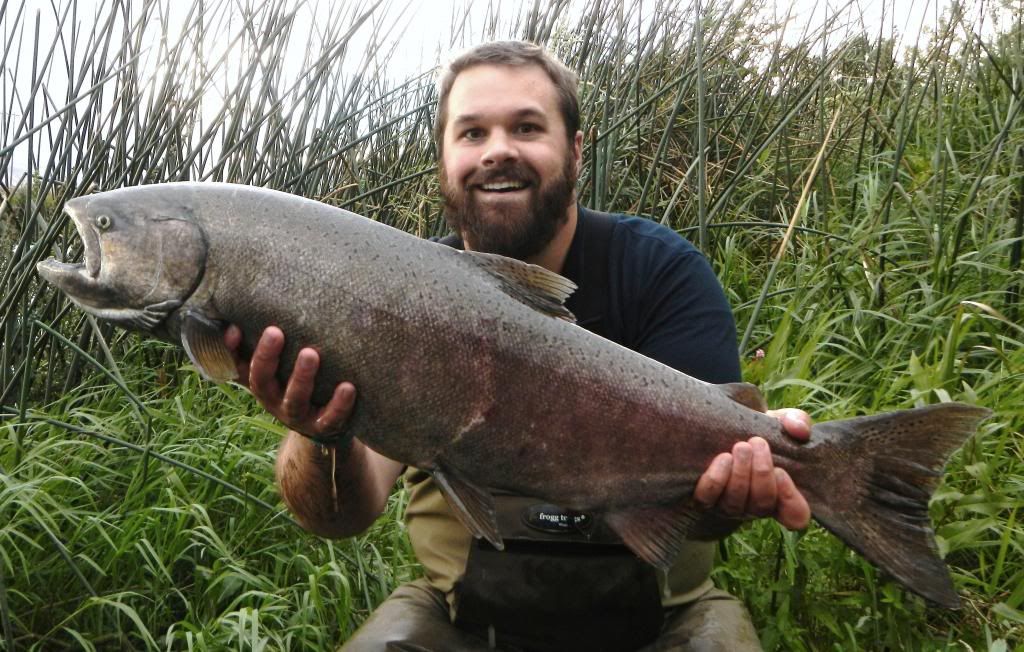 So now that I knew my rod and reel were in working order, I was ready to head to Idaho!  I got into town at 7:30 Friday night, went and bought my steelhead tag, then jumped on the boat with my brother and was fishing by 8:00! I was a little worried about how the fishing would be since the steelhead run isn't the best this year.  Turns out they were biting just fine and we landed several fish that night including this one that I landed at 12:30 in the morning just before calling it quits for the night!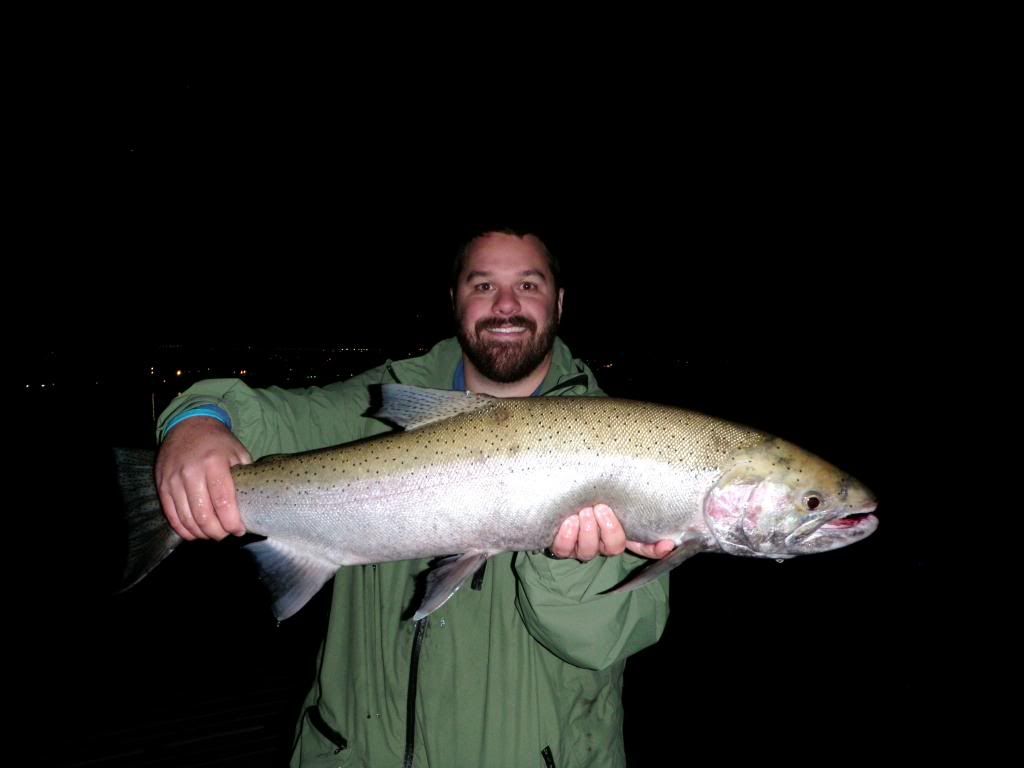 I got to bed at 2:00 am that night so I was more than a little angry at my alarm clock a few hours later, but I wasn't going to miss this weekend of fishing for something as silly as sleep! At 5:30 I was back on the river throwing spoons.  I managed to hook four fish that morning and landed two: a steelhead and a coho jack! 
Cohos went extinct in Idaho in the mid 80s (at least the wild anadromous ones...) but over the last decade or so, one of the local native american tribes has done a pretty awesome job of reintroducing them. They don't get too many returning adults (usually somewhere around 2,000 to 5,000 fish) so catching one - even just a jack - is a real treat to be sure!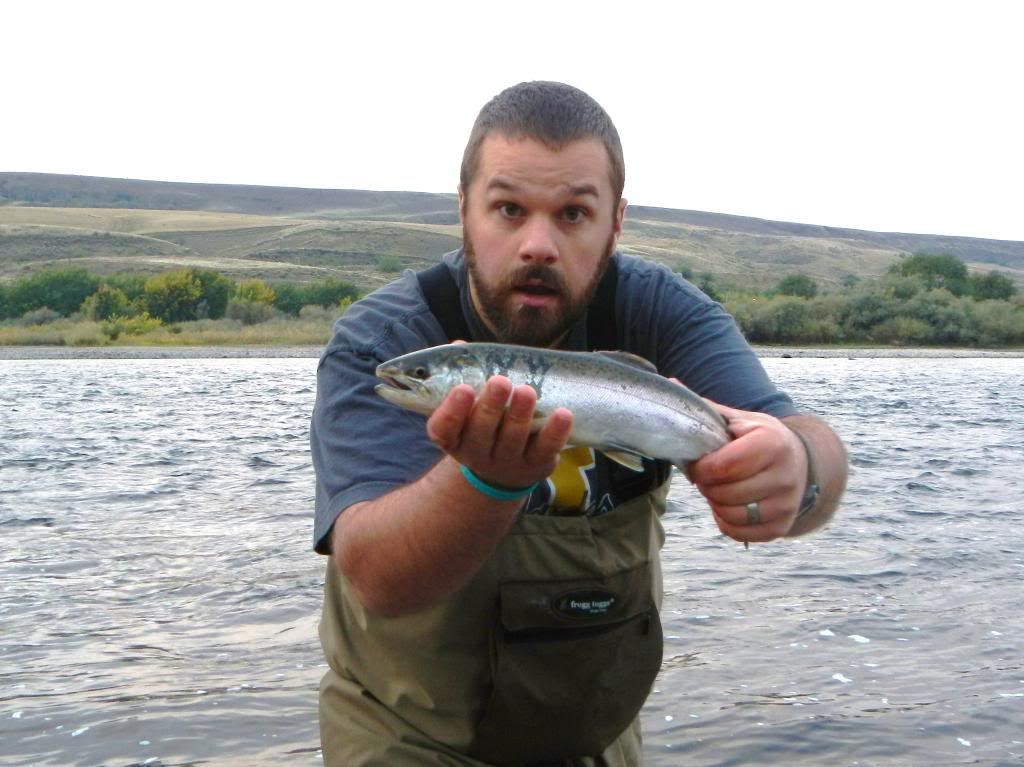 After the morning bite wore off, I was faced with a decision: be sensible and go take a nap, or hit my favorite carp fishing spot. So I went carp fishing!  They were biting very well for October and in about two hours of fishing I landed eight bugle mouths. I didn't get any big ones (all right around 10 lbs) but they were definitely fun on light tackle!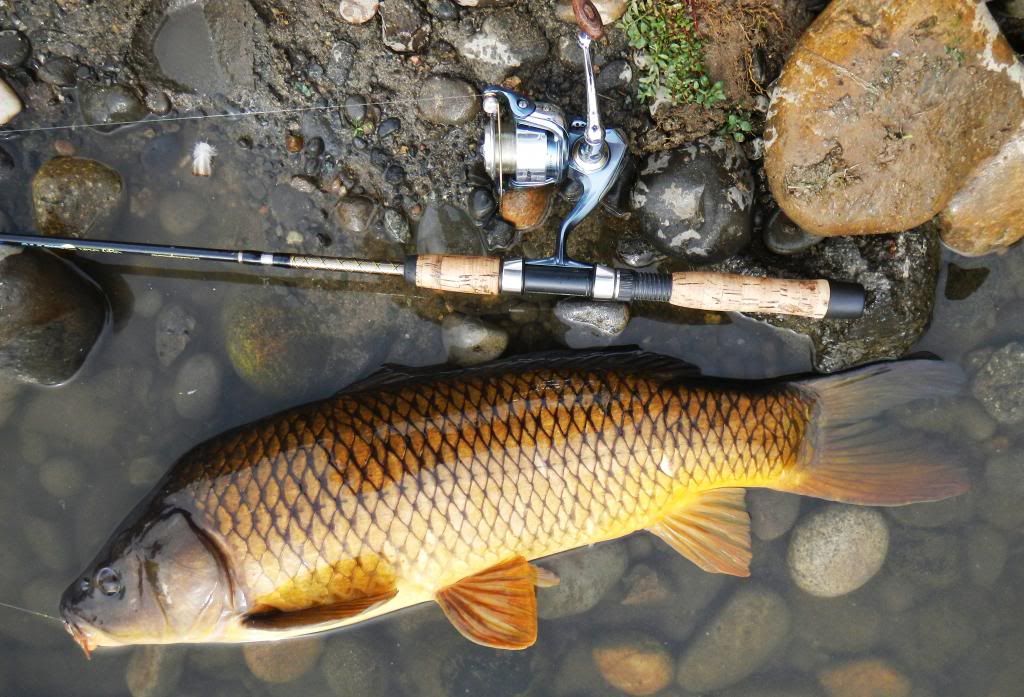 I carp fished untill I thought the steelhead might bite again, then headed back to my spoon fishing spot. That evening, I again hooked four and landed two, but this time the two I landed were both adult coho salmon! If you're keeping track, that's three cohos in one day! Anybody know how to spell HOLY CRAP!? To put this in perspective, at that time about 70,000 steelhead (my intended quarry) had been counted passing the last dam before entering Idaho, however only about 1,100 coho had crossed that same dam!  It was kind of like hitting the lottery... three times in one day!  The kype on a male coho is probably my favorite of all the trout and salmon kypes!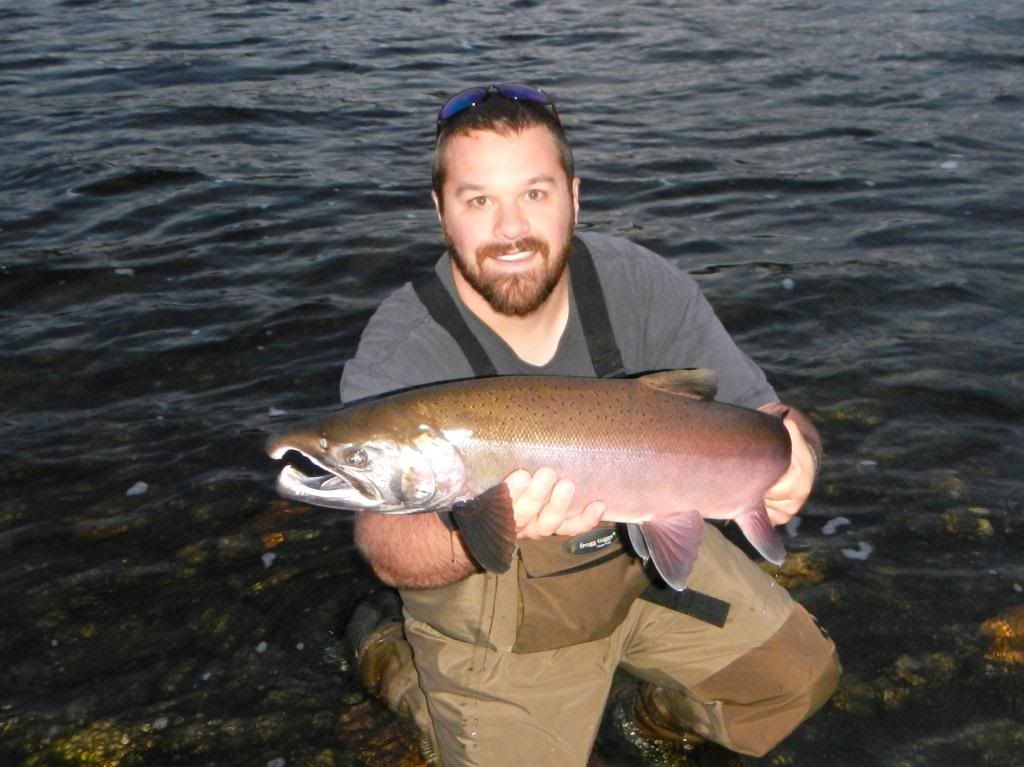 That ended Saturday - a GOOD day in my book!
I got a couple hours more sleep on Saturday night, but only a couple since I still got up at 4:00 to meet a budy to go chase some northern pike. We headed north and hit a couple of our favorite pike spots near Coer d' Alene  Idaho.  Neither of us even touched a fish all morning, and I was having serious regrets - I could have been catching more coho! - but at about 2:00 it warmed up a little and they started biting! We didn't catch any big pike, but we both caught some and we each got a nice largemouth too!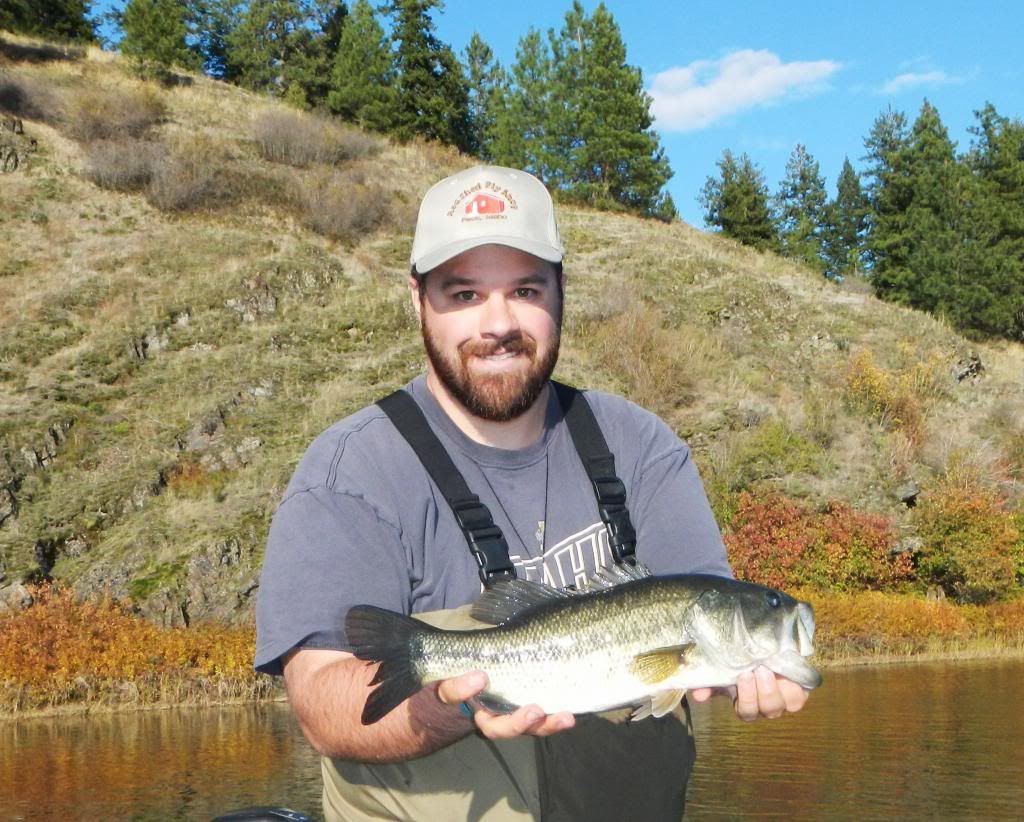 I don't know what it is about early October that makes it so good, but it's my favorite time of year! 
Oh and sorry for all the game fish in this post - next time I'll try to include some rougher stuff...