It seems our resident Orvis Boy found himself in the out-of-doors recently, without his fairy wand and waders. Many a man would have hung his head in the face of such peril, but, his beard, tattoos, and german haircut intact, JohnBoy braved it. With great determination, he Lindy-rigged a Fathead Minnow, and resolved to land himself a wet sock.
Imagine, then, the flabbergastery, when his modest offering was hoovered up by a Prehistoric Beast, the likes of which perhaps no man had seen before. Or perhaps several men. An epic battle ensued. It was very dangerous, and JohnBoy could have died. It was definitely a sign that something was very wrong. This was not supposed to happen. But that's why JohnBoy was sent there; to investigate. Sure, he was putting his life at risk, but that's just the kind of guy he is. Onlookers on the banks got sprayed by the wake, as the boat was dragged towards New Orleans. Backwards. The tears in JohnBoy's eyes might have been caused by the wind slapping him about the face, or by the overwhelming power and majesty of the Event. The Event at the other end of his line. The Event he had become attached to and was now a part of.
As tears flooded his beard, JohnBoy looked down to see his spool nearly empty. Without hesitation, he applied extra pressure by bare-handing the spool. This, of course, was very dangerous. Flaps of skin were peeled off his hand, but he did not relent. Steely-eyed, JohnBoy insisted the other people on the boat look away, so as not to faint at the sight of his situation.
Day turned to night, and night turned back to day again. The helpless people on the boat grew weak with hunger and disorientation. Selflessly, JohnBoy offered up the flaps of his skin for them to eat. He himself could not eat. Would not eat, until he got his fish in. The mighty Beast breached, as if to mock all human toil and effort. To ridicule all elevated things held sacred and kept safe in the human spirit. The Beast beat the water's surface, like as JohnBoy's heart itself seemed fit to beat its way out of his painted breast. In an attempt to wipe the sweat and tears from his haggard visage with his shredded hand, he only succeeded in adding blood to the mix. War paint.
Emboldened by the smell and taste of his own blood, JohnBoy vowed that if the Beast surfaced again, it would be his. Hours passed, as the fish stayed deep and bored deeper. The end, when it came, came without warning or a final hurrah. The fearsome fish flashed its flank portside. In another flash, JohnBoy was upon it. Needless to say the dangers of grabbing such a creature with one's bare hands are too many to number, but danger was an idea JohnBoy had long since abandoned in his transcendent state. The Sturgeon's mystical, healing slime mixed with JohnBoy's blood, sweat, and tears, and lent him strength anew, with which to hold aloft his Great Prize.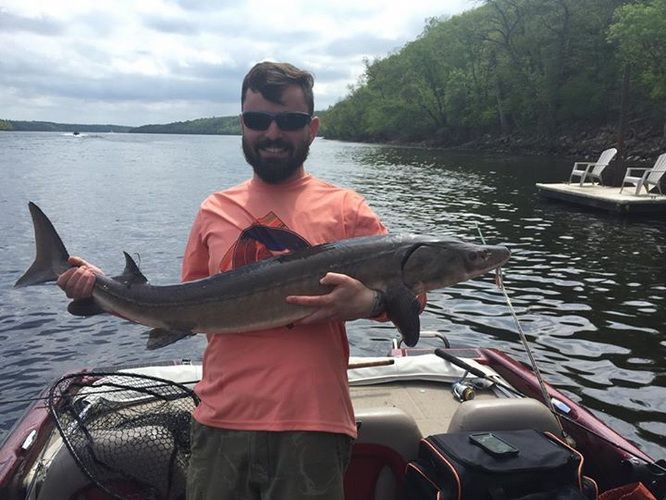 44 inches she was. And tagged, too!
John's catch reminded me that I had once caught a tagged Sturgeon, too. It also reminded me that I had forgotten to let the DNR know about it!
It was the fall of 2012, and I was bloodied and beaten, fighting exhaustion and severe frostbite, sitting in Outdoors4life's boat. We each caught several dozen Lake Sturgeon, adding up to a total of 15. Among them was a rather gloomy and thin specimen of 37 inches. Far from the prettiest Sturgeon of the hundreds and hundreds we caught that night, but made interesting by the fact that it sported a tag.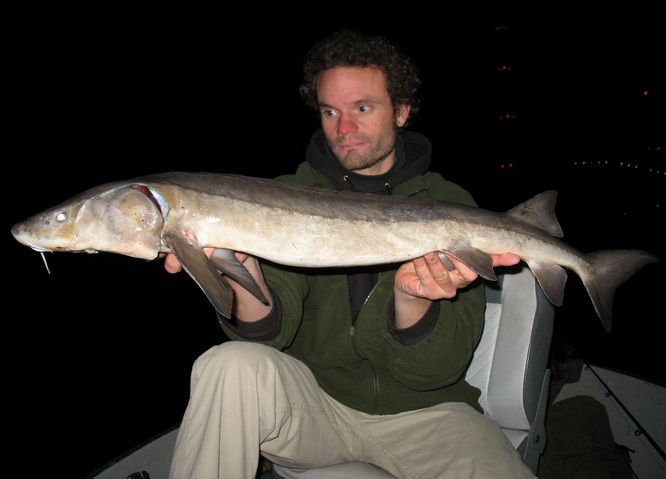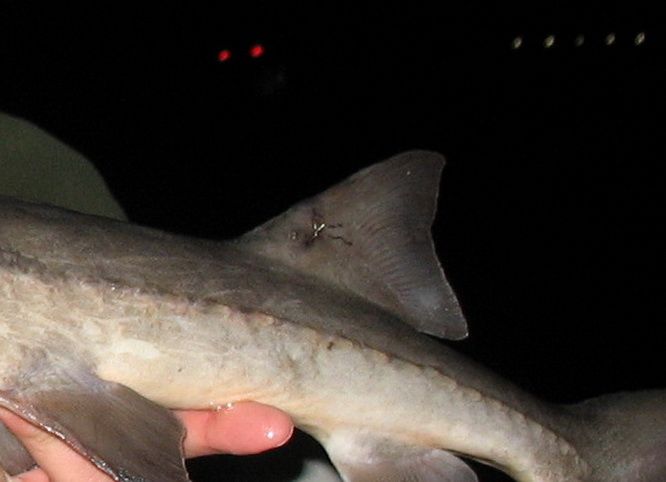 Aaron took extra care with the measurments, and I took them, and the tag number, down. Then forgot all about it.
But when John put up his fish, I dug up the figures, and we both submitted our findings to the DNR on the same day. Soon, we got our replies. Interesting stuff.
John's fish, it turned out, had been tagged on the 27th of August, 2008. At the time, it was just over 42 inches long and weighed 15.9 pounds. Then, it seems, the fish had itself a major growth spurt, because when it was caught in May of 2012, the lucky angler reported it as 60 inches long, and weighing 40 pounds. The radiation must have worn off after that, though, for John to catch it at 44 inches in 2015...
My sad looking Sturgeon was tagged in October of 2003, the very first year of Lake Sturgeon tagging. At the time, the fish was just over 28 inches long and weighed 3.7 pounds. It was caught and reported in September of 2011. By then it had grown to 37.25 inches and 9.2 pounds. Then I caught it at 37 inches in October of 2012. And yet another angler caught it in September of 2013. Still 37 inches long and very skinny.
The DNR gentleman told us that from 2003 through 2014, they tagged 635 Lake Sturgeon on the St. Croix River, and have had 210 reports from anglers. Their latest estimate is that the St. Croix has a population of 5186 Lake Sturgeon, but that estimate is believed to be low.
Interesting stuff, eh? Just goes to show the value of catch and release and proper, respectful handling of fish. Catching a tagged specimen is really cool. So if you're lucky enough to get one, be sure to report it. Even if you wait over two years, the folks at the DNR are happy to hear from you.