Neenah, Wisconsin.
Neenah Slough--->Little Lake Butte Des Morte--->Lake Winnebago.
My parent purchased this home in Wisconsin back in 1995.   I was truly excited because there was a river in the backyard.  On move-in day, I jumped out of the truck, ran in the back, dug up a worm, and threw my first cast.  Few mins later, I caught my first perch. 
The river was known as a slough.  Everything was dumped into it.  The river flows into a bigger lake that is about 300 acres which flows into an even bigger lake.  I remember seeing dead cats, shopping carts, tires, shopping bags, etc....  I did catch a variety of fish during my childhood:  perch, walleyes, silver shiners, bluegills, green sunfish, bass, crappies, golden shiners, northern pikes, carps, suckers, bullheads and channel catfish.  Before my neighbor moved to Florida for retirement, he told me that there used to be trout in the river, but with the city dumping stuff in so much, they all disappaered. 
During the first 2-3 years, the spring perch run was the best.  Jumbo sized perch would run in huge schools.  We would catch them wtih almost every cast.  Since the river runs through my backyard, it was private and others were not allowed to fish it.  I remember seeing over 40+ people fish shoulder to shoulder on the other side while it was only me fishing solo on my parnets property.  After those exciting runs, the perch stopped coming.  It has been almost 10 years now and the perch are finally making their comeback.  Nothing jumbo like how it used to be, but decent size. 
Every summer, this river is almost drained dry, but every spring, it floods pretty high. I was glad to have spent this Easter here with my family and share my experiences fishing here with my son and daughter. 
This is directly in the back of my parent's backyard. 
1 mile north from my parent's house.
First sucker I caught.
2nd sucker.
3rd Sucker and perch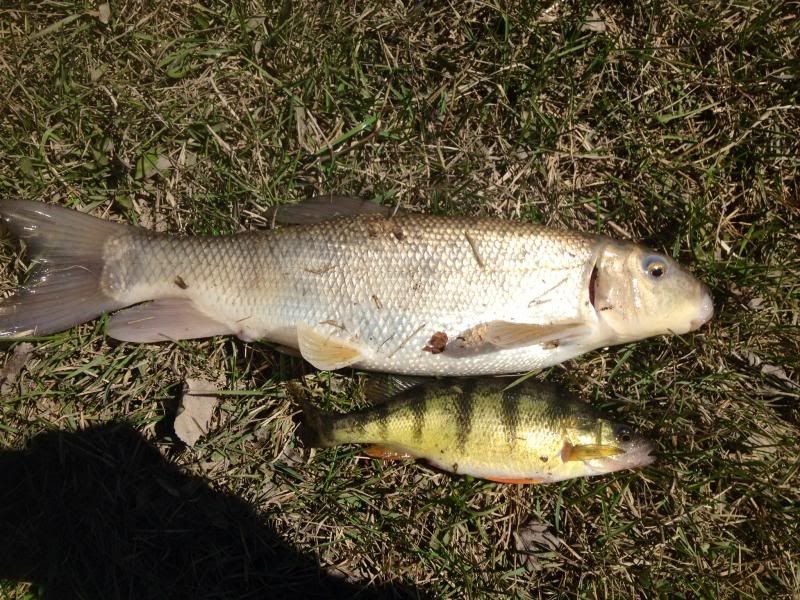 Average Perch
Biggest perch caught and released: