My first build turned out so much nicer than I had dared to hope, and it was so much fun, that I couldn't wait to get another one started. To maximize the chances of making marvellous memories with it, it would have to fit in the suitcase of course. To be on the safe side,  I decided to keep it pretty similar to the first rod, just heavier. And a few other subtle differences.
Now, let's see if I can manage this posting multiple pics in the new forum thing...
All the stuff:
-Pac Bay Quickline blank, 4-piece 9 ft 10 weight: black
-9 Sic guides, two-footed: black
-thread: black
-The sweetest cork around, and some rubberized cork rings
-Reel seat: I forget
Wow, that reel seat is actually much too clunky for this rod. Plus it be ugly, though it looked nice in the catalogue.
Let's get rid of that.
That's more like it! That's my favorite type of reel seat: Fuji, Screw-down, black. Couldn't find one before... Gotta get that nasty-ass foam shit off ASAP, though. Why would anybody want to have that on their rod?!?!
That's handy, it wasn't even stuck on!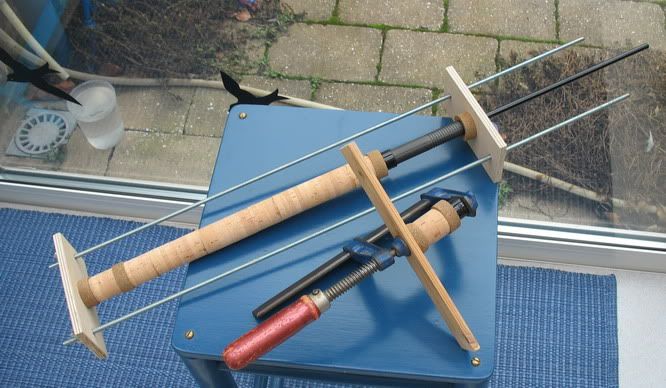 Cork and such epoxied and clamped. Note the foregrip; clamped separately. That didn't work out too well. Came out semi-crooked and not quite symmetrical. Will anybody but me notice when I'm fishing with the rod? Prolly not. But still...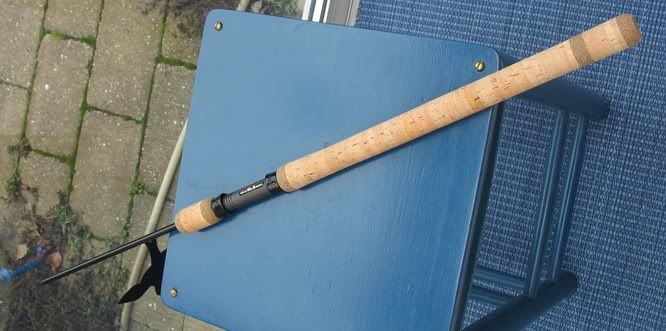 Handle sanded into shape. Well, just about. Slimmed it down a bit more here and there, to add a little flair.
Forgot to take a pic of the wrapped guides before I applied the finish. Ehwell. Here's the whole thing with I don't remember how many layers of finish. I'm not ecstatic about the job I did with the wrapping this time. Plus, once again, one of the guides got squeezed a huntcair off line. Will anybody but me notice these things when I'm fising with this rod? Probablement not. But still...
This old Canadian cent was in my wallet when I got back from the Pout-O-Rama! Never yet been to Canada, but when (yes when) I do go, this rod be coming.
Some more semi-gratuitous shots that I hope make my efforts look halfway decent:


Yes, Tony, that is another one of my "fancy-pants reels with two handles!"

Is it a work of art? Heck no. But she looks good and feels great. Very well balanced with the reel I built it for, so that's good.
Just like my previous build, she shall remain nameless for now. I'll be damned if I fudge meself in the app again by naming it after a cool species I hope to catch on it next time I'm over there! Named a rod "Ictiobus" last year, thinking: "How could I fail to catch a Smallmouth Buff or two (at a certain spot), seeing as how I got 30 of em in two outings last time?!" Sure enough: didn't get no Buff. No more of that jinxing bidness. Take em out blank, maybe later I'll name em after the most memorable fish they end up bending into over yonder....
Thanks once again to my rod-building mentor,TonyS, who offered some great guidance again, and without whom I doubt I would have dared to start.
Anybody want an ugly-ass, clunky reel seat??