Here's a look into the past for all you historians of roughfishing. It was during this contest that I first stumbled on this site. The next spring I joined and my life has never been the same. Really. This site completely altered my world (and definitely for the better!).
---
This was archived on June 27, 2007, so it's probably not the final results, but I think it's the latest version of that year's contest that was archived. http://web.archive.org/web/20070627222053/http://www.everyb1t.com:8080/C...
---
Roughfish.com Spring 2007 Species Contest
Latest Entry: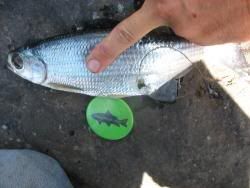 Mooneye, roughfisher4life
Welcome to the home page of the roughfish.com 2007 Spring Species Contest! Here, the best and brightest of the multi-species anglers across the US and Canada compete for bragging rights and fabulous prizes. Good luck to all contestants! If you're just joining this contest, be sure to read the rules!
| | |
| --- | --- |
| Registered Contestants: | 33 |
| Contestants with Qualifying Fish: | 27 |
| Total Fish Entered: | 351 |
| Total Species: | 49 |
| | | |
| --- | --- | --- |
| Rank | Angler | Species |
| 1 | Dr. flatheadzzz | 33 |
| 2 | castandblast | 23 |
| 3 | Andy | 22 |
| 3 | Quattro | 22 |
| 4 | Meadeo | 21 |
| 4 | roughfisher4life | 21 |
| 5 | aaronbye | 19 |
| 5 | pat_the_nat | 19 |
| 6 | roughfishopen | 18 |
| 7 | Corey | 17 |
| 8 | Catfish_1 | 16 |
| 9 | Eric Kol | 15 |
| 9 | MN bowfin angler | 15 |
| 10 | catfisher | 12 |
| 11 | Dukebaby | 11 |
| 11 | Matthew | 11 |
| 12 | Snagger W | 9 |
| 13 | AvidFly | 7 |
| 13 | ESubvaria | 7 |
| 14 | joe-ay | 6 |
| 14 | TonyS | 6 |
| 14 | Tyler Holm | 6 |
| 15 | bowfingurl | 4 |
| 15 | TheDoczzzBitch | 4 |
| 15 | Windknot | 4 |
| 16 | Vinnie | 2 |
| 17 | bigvankyle | 1 |
Catch History
| Entry # | Contestant     | Entry Upload Date and Time    | Species                                 |
| --- | --- | --- | --- |
| 1 | Eric Kol | 2007-06-01 15:26:14 | Black Crappie |
| 2 | Eric Kol | 2007-06-01 15:26:41 | Common Carp |
| 3 | Eric Kol | 2007-06-01 15:26:58 | Largemouth Bass |
| 4 | Dr. flatheadzzz | 2007-06-01 17:35:41 | Smallmouth Bass |
| 5 | Dr. flatheadzzz | 2007-06-01 18:05:37 | White Sucker |
| 6 | Dr. flatheadzzz | 2007-06-01 18:06:52 | Common Carp |
| 7 | roughfisher4life | 2007-06-01 18:10:27 | Freshwater Drum |
| 8 | roughfisher4life | 2007-06-01 18:12:30 | Walleye |
| 9 | roughfisher4life | 2007-06-01 18:13:47 | White Sucker |
| 10 | roughfisher4life | 2007-06-01 18:15:27 | Northern Pike |
| 11 | Meadeo | 2007-06-01 19:27:25 | White Sucker |
| 12 | Meadeo | 2007-06-01 19:27:39 | Green Sunfish |
| 13 | Corey | 2007-06-01 21:59:16 | Black Bullhead |
| 14 | Corey | 2007-06-01 22:00:18 | Black Crappie |
| 15 | Corey | 2007-06-01 22:00:35 | Channel Catfish |
| 16 | Corey | 2007-06-01 22:00:53 | Smallmouth Bass |
| 17 | Corey | 2007-06-01 22:01:12 | Freshwater Drum |
| 18 | Corey | 2007-06-01 22:01:30 | Green Sunfish |
| 19 | Andy | 2007-06-01 22:02:16 | Black Crappie |
| 20 | Andy | 2007-06-01 22:02:32 | Green Sunfish |
| 21 | Andy | 2007-06-01 22:02:50 | Freshwater Drum |
| 22 | Andy | 2007-06-01 22:03:07 | Channel Catfish |
| 23 | Andy | 2007-06-01 22:03:17 | Northern Pike |
| 24 | Dr. flatheadzzz | 2007-06-02 14:40:05 | Lake Sturgeon |
| 25 | Dr. flatheadzzz | 2007-06-02 14:40:54 | Mooneye |
| 26 | Dr. flatheadzzz | 2007-06-02 14:41:46 | Bluegill |
| 27 | Dr. flatheadzzz | 2007-06-02 14:42:50 | Pumpkinseed |
| 28 | Dr. flatheadzzz | 2007-06-02 14:43:33 | Walleye |
| 29 | Dr. flatheadzzz | 2007-06-02 14:47:28 | Golden Redhorse |
| 30 | Meadeo | 2007-06-02 14:56:14 | Black Crappie |
| 31 | Meadeo | 2007-06-02 14:56:47 | Pumpkinseed |
| 32 | Meadeo | 2007-06-02 14:57:18 | Rainbow Trout |
| 33 | Meadeo | 2007-06-02 15:28:02 | Brown Bullhead |
| 34 | Andy | 2007-06-02 22:52:37 | Bluegill |
| 35 | Andy | 2007-06-02 22:52:47 | Yellow Perch |
| 36 | Andy | 2007-06-02 22:52:57 | Smallmouth Bass |
| 37 | Andy | 2007-06-02 22:53:19 | Mooneye |
| 38 | Andy | 2007-06-02 22:53:31 | Brook Trout |
| 39 | Andy | 2007-06-02 22:53:40 | Brown Trout |
| 40 | Corey | 2007-06-02 22:55:33 | Bluegill |
| 41 | Corey | 2007-06-02 22:55:41 | Brook Trout |
| 42 | Corey | 2007-06-02 22:55:51 | Brown Trout |
| 43 | Corey | 2007-06-02 22:56:02 | Shorthead Redhorse |
| 44 | Corey | 2007-06-02 22:56:15 | Walleye |
| 45 | Corey | 2007-06-02 22:56:29 | Yellow Perch |
| 46 | MN bowfin angler | 2007-06-03 02:16:44 | Largemouth Bass |
| 47 | MN bowfin angler | 2007-06-03 02:22:13 | Northern Rock Bass |
| 48 | MN bowfin angler | 2007-06-03 02:23:28 | White Bass |
| 49 | Catfish_1 | 2007-06-03 07:50:29 | Black Bullhead |
| 50 | Catfish_1 | 2007-06-03 07:50:40 | Green Sunfish |
| 51 | Meadeo | 2007-06-03 08:24:09 | Largemouth Bass |
| 52 | ESubvaria | 2007-06-03 09:45:14 | Freshwater Drum |
| 53 | TonyS | 2007-06-03 11:21:07 | Brook Trout |
| 54 | TonyS | 2007-06-03 11:21:53 | Rainbow Trout |
| 55 | Andy | 2007-06-03 12:18:22 | Shorthead Redhorse |
| 56 | Quattro | 2007-06-03 14:09:56 | Black Crappie |
| 57 | Quattro | 2007-06-03 14:10:22 | Bluegill |
| 58 | Quattro | 2007-06-03 14:10:45 | Bowfin |
| 59 | Quattro | 2007-06-03 14:11:13 | Brook Trout |
| 60 | Quattro | 2007-06-03 14:11:46 | Brown Trout |
| 61 | Quattro | 2007-06-03 14:12:12 | Chain Pickerel |
| 62 | Quattro | 2007-06-03 14:16:32 | Yellow Perch |
| 63 | ESubvaria | 2007-06-03 15:14:51 | Largemouth Bass |
| 64 | ESubvaria | 2007-06-03 15:15:20 | Bluegill |
| 65 | Dr. flatheadzzz | 2007-06-03 16:42:57 | White Bass |
| 66 | Dr. flatheadzzz | 2007-06-03 16:44:39 | Largemouth Bass |
| 67 | Dr. flatheadzzz | 2007-06-03 16:45:45 | Green Sunfish |
| 68 | bowfingurl | 2007-06-03 19:22:13 | American Eel |
| 69 | aaronbye | 2007-06-03 19:24:16 | Northern Rock Bass |
| 70 | aaronbye | 2007-06-03 19:24:43 | Green Sunfish |
| 71 | aaronbye | 2007-06-03 19:25:01 | Smallmouth Bass |
| 72 | bowfingurl | 2007-06-03 19:54:15 | Bowfin |
| 73 | bowfingurl | 2007-06-03 19:58:58 | Bluegill |
| 74 | bowfingurl | 2007-06-03 20:02:10 | Pumpkinseed |
| 75 | bigvankyle | 2007-06-03 20:10:22 | Longnose Gar |
| 76 | Dukebaby | 2007-06-03 21:09:26 | Silver Redhorse |
| 77 | Dukebaby | 2007-06-03 21:09:44 | Common Carp |
| 78 | roughfishopen | 2007-06-03 23:13:03 | Common Carp |
| 79 | roughfishopen | 2007-06-03 23:14:52 | Black Bullhead |
| 80 | roughfishopen | 2007-06-03 23:16:45 | Largemouth Bass |
| 81 | Dr. flatheadzzz | 2007-06-03 23:35:01 | Black Bullhead |
| 82 | Dr. flatheadzzz | 2007-06-03 23:36:31 | Yellow Bullhead |
| 83 | Dr. flatheadzzz | 2007-06-04 16:17:25 | Brown Trout |
| 84 | Eric Kol | 2007-06-04 17:35:13 | Black Bullhead |
| 85 | Eric Kol | 2007-06-04 17:35:44 | Green Sunfish |
| 86 | Eric Kol | 2007-06-04 17:36:03 | Smallmouth Buffalo |
| 87 | Dr. flatheadzzz | 2007-06-04 20:56:23 | Northern Pike |
| 88 | Dr. flatheadzzz | 2007-06-04 20:58:49 | Black Crappie |
| 89 | aaronbye | 2007-06-04 21:51:31 | Black Crappie |
| 90 | Meadeo | 2007-06-04 22:53:27 | Yellow Perch |
| 91 | AvidFly | 2007-06-05 14:55:09 | Walleye |
| 92 | AvidFly | 2007-06-05 14:56:17 | Pumpkinseed |
| 93 | AvidFly | 2007-06-05 14:57:20 | Bluegill |
| 94 | AvidFly | 2007-06-05 14:57:37 | Freshwater Drum |
| 95 | Eric Kol | 2007-06-05 15:55:59 | Freshwater Drum |
| 96 | Eric Kol | 2007-06-05 15:56:26 | Channel Catfish |
| 97 | Eric Kol | 2007-06-05 15:56:52 | Smallmouth Bass |
| 98 | Eric Kol | 2007-06-05 15:57:15 | Walleye |
| 99 | Dr. flatheadzzz | 2007-06-05 16:55:06 | Northern Rock Bass |
| 100 | Dr. flatheadzzz | 2007-06-05 17:00:08 | Shorthead Redhorse |
| 101 | roughfisher4life | 2007-06-05 17:09:53 | Common Carp |
| 102 | roughfisher4life | 2007-06-05 17:10:30 | Northern Rock Bass |
| 103 | TheDoczzzBitch | 2007-06-05 17:15:37 | Freshwater Drum |
| 104 | aaronbye | 2007-06-05 21:57:46 | Black Bullhead |
| 105 | roughfishopen | 2007-06-05 22:38:54 | Bluegill |
| 106 | MN bowfin angler | 2007-06-05 23:15:35 | Green Sunfish |
| 107 | MN bowfin angler | 2007-06-05 23:15:52 | Bluegill |
| 108 | MN bowfin angler | 2007-06-05 23:16:06 | Pumpkinseed |
| 109 | MN bowfin angler | 2007-06-05 23:16:49 | Smallmouth Bass |
| 110 | MN bowfin angler | 2007-06-05 23:17:04 | Channel Catfish |
| 111 | MN bowfin angler | 2007-06-05 23:17:14 | Mooneye |
| 112 | MN bowfin angler | 2007-06-06 12:12:45 | White Sucker |
| 113 | MN bowfin angler | 2007-06-06 12:13:06 | Brook Trout |
| 114 | Dr. flatheadzzz | 2007-06-06 16:54:39 | Freshwater Drum |
| 115 | Dr. flatheadzzz | 2007-06-06 16:55:37 | Shovelnose Sturgeon |
| 116 | Dr. flatheadzzz | 2007-06-06 16:56:33 | Smallmouth Buffalo |
| 117 | roughfisher4life | 2007-06-06 17:01:32 | Shovelnose Sturgeon |
| 118 | Dr. flatheadzzz | 2007-06-07 07:29:11 | Brown Bullhead |
| 119 | roughfisher4life | 2007-06-07 07:35:39 | Brown Bullhead |
| 120 | roughfisher4life | 2007-06-07 07:38:05 | Flathead Catfish |
| 121 | catfisher | 2007-06-07 09:33:29 | Bluegill |
| 122 | catfisher | 2007-06-07 09:33:57 | Black Bullhead |
| 123 | Catfish_1 | 2007-06-07 09:36:54 | Bluegill |
| 124 | Catfish_1 | 2007-06-07 09:37:12 | Black Crappie |
| 125 | castandblast | 2007-06-07 13:18:28 | Pumpkinseed |
| 126 | castandblast | 2007-06-07 13:20:10 | Black Crappie |
| 127 | castandblast | 2007-06-07 13:20:33 | Largemouth Bass |
| 128 | castandblast | 2007-06-07 13:20:53 | Bluegill |
| 129 | Catfish_1 | 2007-06-07 14:33:07 | Pumpkinseed |
| 130 | Eric Kol | 2007-06-07 17:15:01 | Bluegill |
| 131 | Eric Kol | 2007-06-07 17:21:30 | Yellow Bullhead |
| 132 | Dukebaby | 2007-06-07 18:31:23 | Bluegill |
| 133 | Dr. flatheadzzz | 2007-06-08 16:06:51 | Yellow Perch |
| 134 | roughfisher4life | 2007-06-08 16:08:50 | Yellow Perch |
| 135 | roughfisher4life | 2007-06-08 16:10:16 | White Bass |
| 136 | roughfisher4life | 2007-06-08 16:11:59 | Smallmouth Bass |
| 137 | roughfisher4life | 2007-06-08 16:12:49 | Black Crappie |
| 138 | Matthew | 2007-06-08 20:39:02 | Bluegill |
| 139 | Matthew | 2007-06-08 21:55:59 | Longear Sunfish |
| 140 | Matthew | 2007-06-08 21:58:39 | Northern Rock Bass |
| 141 | Matthew | 2007-06-08 22:06:42 | Redbreast Sunfish |
| 142 | Matthew | 2007-06-08 22:09:57 | Green Sunfish |
| 143 | Matthew | 2007-06-08 22:13:03 | Pumpkinseed |
| 144 | Matthew | 2007-06-08 22:16:43 | Largemouth Bass |
| 145 | Matthew | 2007-06-08 22:19:36 | Smallmouth Bass |
| 146 | Matthew | 2007-06-08 22:21:09 | Common Carp |
| 147 | Matthew | 2007-06-08 22:22:41 | Fallfish |
| 148 | Matthew | 2007-06-08 22:26:05 | Yellow Perch |
| 149 | catfisher | 2007-06-08 22:49:42 | Black Crappie |
| 150 | catfisher | 2007-06-08 22:50:04 | Largemouth Bass |
| 151 | catfisher | 2007-06-08 22:55:11 | Green Sunfish |
| 152 | Andy | 2007-06-09 00:58:27 | White Bass |
| 153 | Quattro | 2007-06-09 11:54:58 | Brown Bullhead |
| 154 | Quattro | 2007-06-09 11:56:12 | Channel Catfish |
| 155 | Quattro | 2007-06-09 11:57:14 | Common Carp |
| 156 | Quattro | 2007-06-09 11:58:33 | Redbreast Sunfish |
| 157 | Quattro | 2007-06-09 12:02:05 | Redear Sunfish |
| 158 | Quattro | 2007-06-09 12:02:59 | Smallmouth Bass |
| 159 | castandblast | 2007-06-09 17:14:15 | Channel Catfish |
| 160 | castandblast | 2007-06-09 17:15:12 | Mooneye |
| 161 | castandblast | 2007-06-09 17:17:05 | Freshwater Drum |
| 162 | castandblast | 2007-06-09 17:17:45 | Walleye |
| 163 | TonyS | 2007-06-09 20:51:22 | Northern Rock Bass |
| 164 | TonyS | 2007-06-09 20:58:07 | Shorthead Redhorse |
| 165 | TonyS | 2007-06-09 20:59:09 | Bluegill |
| 166 | TonyS | 2007-06-09 21:00:02 | Freshwater Drum |
| 167 | aaronbye | 2007-06-09 22:34:17 | Yellow Perch |
| 168 | aaronbye | 2007-06-09 22:34:43 | Rainbow Trout |
| 169 | Dr. flatheadzzz | 2007-06-10 15:17:44 | White Crappie |
| 170 | roughfisher4life | 2007-06-10 15:19:57 | White Crappie |
| 171 | roughfishopen | 2007-06-10 19:54:38 | Black Crappie |
| 172 | roughfishopen | 2007-06-10 19:59:27 | Northern Pike |
| 173 | roughfishopen | 2007-06-10 20:21:01 | Yellow Perch |
| 174 | roughfishopen | 2007-06-10 20:22:44 | Pumpkinseed |
| 175 | roughfishopen | 2007-06-10 20:23:15 | Green Sunfish |
| 176 | TheDoczzzBitch | 2007-06-10 21:11:07 | Green Sunfish |
| 177 | TheDoczzzBitch | 2007-06-10 21:13:15 | Bluegill |
| 178 | TheDoczzzBitch | 2007-06-10 21:15:24 | Black Bullhead |
| 179 | Andy | 2007-06-10 21:53:45 | Largemouth Bass |
| 180 | Andy | 2007-06-10 21:54:36 | White Sucker |
| 181 | Andy | 2007-06-10 21:59:29 | Walleye |
| 182 | aaronbye | 2007-06-10 22:06:09 | Bluegill |
| 183 | Meadeo | 2007-06-10 23:10:09 | Striped Bass |
| 184 | Meadeo | 2007-06-10 23:10:29 | Blue Catfish |
| 185 | Meadeo | 2007-06-10 23:11:00 | Chain Pickerel |
| 186 | Meadeo | 2007-06-10 23:11:50 | White Perch |
| 187 | Meadeo | 2007-06-10 23:12:02 | American Eel |
| 188 | MN bowfin angler | 2007-06-10 23:55:13 | Yellow Bullhead |
| 189 | MN bowfin angler | 2007-06-11 00:04:26 | Freshwater Drum |
| 190 | Tyler Holm | 2007-06-11 11:30:17 | Freshwater Drum |
| 191 | Tyler Holm | 2007-06-11 11:32:36 | Walleye |
| 192 | Tyler Holm | 2007-06-11 11:32:45 | Sauger |
| 193 | Dr. flatheadzzz | 2007-06-11 15:54:57 | Channel Catfish |
| 194 | pat_the_nat | 2007-06-11 21:43:33 | American Eel |
| 195 | pat_the_nat | 2007-06-11 21:44:02 | American Shad |
| 196 | pat_the_nat | 2007-06-11 21:44:36 | Bluegill |
| 197 | pat_the_nat | 2007-06-11 21:45:07 | Channel Catfish |
| 198 | pat_the_nat | 2007-06-11 21:46:09 | Fallfish |
| 199 | pat_the_nat | 2007-06-11 21:47:05 | Largemouth Bass |
| 200 | pat_the_nat | 2007-06-11 21:48:11 | Pumpkinseed |
| 201 | pat_the_nat | 2007-06-11 21:48:54 | Redbreast Sunfish |
| 202 | pat_the_nat | 2007-06-11 21:49:39 | Smallmouth Bass |
| 203 | castandblast | 2007-06-11 21:54:06 | Warmouth |
| 204 | castandblast | 2007-06-11 21:55:36 | Brook Trout |
| 205 | castandblast | 2007-06-11 21:57:59 | Golden Redhorse |
| 206 | castandblast | 2007-06-11 21:58:55 | Shorthead Redhorse |
| 207 | castandblast | 2007-06-11 22:00:02 | White Sucker |
| 208 | castandblast | 2007-06-11 22:01:27 | Smallmouth Bass |
| 209 | castandblast | 2007-06-11 22:02:43 | Rainbow Trout |
| 210 | castandblast | 2007-06-11 22:04:02 | Brown Trout |
| 211 | Eric Kol | 2007-06-11 22:30:28 | Brown Bullhead |
| 212 | Eric Kol | 2007-06-11 22:30:48 | Pumpkinseed |
| 213 | aaronbye | 2007-06-11 23:23:56 | Freshwater Drum |
| 214 | ESubvaria | 2007-06-11 23:50:20 | Yellow Perch |
| 215 | Dr. flatheadzzz | 2007-06-12 17:11:26 | Orangespotted Sunfish |
| 216 | Meadeo | 2007-06-12 17:34:38 | Channel Catfish |
| 217 | roughfisher4life | 2007-06-12 17:57:35 | Orangespotted Sunfish |
| 218 | Tyler Holm | 2007-06-12 17:58:04 | Largemouth Bass |
| 219 | aaronbye | 2007-06-12 20:26:40 | Shorthead Redhorse |
| 220 | aaronbye | 2007-06-12 20:29:56 | Northern Pike |
| 221 | aaronbye | 2007-06-12 20:31:40 | Channel Catfish |
| 222 | aaronbye | 2007-06-12 20:33:53 | Silver Redhorse |
| 223 | Andy | 2007-06-12 21:33:04 | Pumpkinseed |
| 224 | Andy | 2007-06-12 21:33:44 | Common Carp |
| 225 | Corey | 2007-06-12 22:49:28 | Common Carp |
| 226 | Dukebaby | 2007-06-13 00:00:07 | Northern Rock Bass |
| 227 | roughfisher4life | 2007-06-13 15:46:15 | Brook Trout |
| 228 | roughfisher4life | 2007-06-13 15:47:29 | Shorthead Redhorse |
| 229 | Dr. flatheadzzz | 2007-06-13 15:49:19 | Brook Trout |
| 230 | Dukebaby | 2007-06-13 21:39:29 | Channel Catfish |
| 231 | Dr. flatheadzzz | 2007-06-14 00:07:19 | Flathead Catfish |
| 232 | ESubvaria | 2007-06-14 10:58:40 | Pumpkinseed |
| 233 | pat_the_nat | 2007-06-14 20:05:20 | White Perch |
| 234 | Andy | 2007-06-14 23:38:58 | White Crappie |
| 235 | MN bowfin angler | 2007-06-15 10:04:52 | Golden Redhorse |
| 236 | Catfish_1 | 2007-06-15 10:13:12 | Smallmouth Bass |
| 237 | Catfish_1 | 2007-06-15 10:13:26 | Sauger |
| 238 | Catfish_1 | 2007-06-15 10:13:42 | Freshwater Drum |
| 239 | catfisher | 2007-06-15 10:16:10 | Freshwater Drum |
| 240 | catfisher | 2007-06-15 10:16:26 | Common Carp |
| 241 | Tyler Holm | 2007-06-15 11:10:28 | Black Bullhead |
| 242 | Tyler Holm | 2007-06-15 11:10:52 | Golden Redhorse |
| 243 | ESubvaria | 2007-06-15 11:42:59 | Black Bullhead |
| 244 | aaronbye | 2007-06-15 15:02:07 | Common Carp |
| 245 | Dr. flatheadzzz | 2007-06-15 16:17:34 | Northern Hog Sucker |
| 246 | Dukebaby | 2007-06-16 11:40:25 | Black Bullhead |
| 247 | joe-ay | 2007-06-16 20:37:42 | Bluegill |
| 248 | Meadeo | 2007-06-16 20:39:53 | Bluegill |
| 249 | joe-ay | 2007-06-16 20:47:29 | Black Crappie |
| 250 | joe-ay | 2007-06-16 20:47:53 | Largemouth Bass |
| 251 | roughfishopen | 2007-06-17 00:04:03 | Flathead Catfish |
| 252 | roughfishopen | 2007-06-17 00:08:28 | White Bass |
| 253 | roughfishopen | 2007-06-17 00:09:10 | Freshwater Drum |
| 254 | Dukebaby | 2007-06-17 09:37:40 | Smallmouth Bass |
| 255 | pat_the_nat | 2007-06-17 13:18:24 | Yellow Perch |
| 256 | Meadeo | 2007-06-17 17:22:59 | Longear Sunfish |
| 257 | Meadeo | 2007-06-17 17:23:31 | Smallmouth Bass |
| 258 | joe-ay | 2007-06-17 17:25:03 | Smallmouth Bass |
| 259 | joe-ay | 2007-06-17 17:25:28 | Green Sunfish |
| 260 | joe-ay | 2007-06-17 17:25:47 | Longear Sunfish |
| 261 | Quattro | 2007-06-17 19:15:49 | Fallfish |
| 262 | Quattro | 2007-06-17 19:18:35 | Largemouth Bass |
| 263 | Quattro | 2007-06-17 19:20:12 | Longear Sunfish |
| 264 | Quattro | 2007-06-17 19:21:28 | Pumpkinseed |
| 265 | Andy | 2007-06-17 20:18:31 | River Redhorse |
| 266 | roughfishopen | 2007-06-17 21:03:53 | Smallmouth Bass |
| 267 | roughfishopen | 2007-06-17 21:04:22 | Channel Catfish |
| 268 | roughfishopen | 2007-06-17 21:04:52 | Silver Redhorse |
| 269 | aaronbye | 2007-06-17 21:08:52 | Flathead Catfish |
| 270 | Vinnie | 2007-06-17 21:17:11 | Rainbow Trout |
| 271 | roughfishopen | 2007-06-17 22:16:08 | Brown Trout |
| 272 | Corey | 2007-06-17 22:45:59 | Pumpkinseed |
| 273 | Corey | 2007-06-17 22:46:11 | Largemouth Bass |
| 274 | roughfisher4life | 2007-06-18 17:02:16 | Silver Redhorse |
| 275 | Catfish_1 | 2007-06-18 17:02:24 | Goldfish |
| 276 | Catfish_1 | 2007-06-18 17:02:44 | Shorthead Redhorse |
| 277 | catfisher | 2007-06-18 17:03:26 | Shorthead Redhorse |
| 278 | catfisher | 2007-06-18 17:03:51 | Pumpkinseed |
| 279 | catfisher | 2007-06-18 17:04:04 | Goldfish |
| 280 | Eric Kol | 2007-06-18 17:35:14 | White Sucker |
| 281 | pat_the_nat | 2007-06-18 23:37:43 | Green Sunfish |
| 282 | roughfisher4life | 2007-06-19 16:08:52 | Golden Redhorse |
| 283 | roughfisher4life | 2007-06-19 16:10:21 | River Redhorse |
| 284 | Dr. flatheadzzz | 2007-06-19 16:14:57 | River Redhorse |
| 285 | castandblast | 2007-06-19 16:58:06 | Orangespotted Sunfish |
| 286 | castandblast | 2007-06-19 16:59:04 | Green Sunfish |
| 287 | castandblast | 2007-06-19 17:00:14 | Black Bullhead |
| 288 | castandblast | 2007-06-19 17:00:38 | Common Carp |
| 289 | pat_the_nat | 2007-06-19 18:55:49 | Brook Trout |
| 290 | pat_the_nat | 2007-06-19 18:56:51 | Rainbow Trout |
| 291 | pat_the_nat | 2007-06-19 18:58:12 | Northern Rock Bass |
| 292 | pat_the_nat | 2007-06-19 18:58:54 | Common Carp |
| 293 | pat_the_nat | 2007-06-19 18:59:47 | White Sucker |
| 294 | Dr. flatheadzzz | 2007-06-19 22:26:43 | Rainbow Trout |
| 295 | Catfish_1 | 2007-06-19 23:27:35 | Channel Catfish |
| 296 | MN bowfin angler | 2007-06-20 13:46:48 | Bowfin |
| 297 | Quattro | 2007-06-20 19:40:42 | Blue Catfish |
| 298 | Meadeo | 2007-06-20 19:55:11 | Grass Carp |
| 299 | Dr. flatheadzzz | 2007-06-20 22:35:13 | Silver Redhorse |
| 300 | AvidFly | 2007-06-20 22:57:54 | Shorthead Redhorse |
| 301 | AvidFly | 2007-06-20 23:04:10 | Channel Catfish |
| 302 | AvidFly | 2007-06-20 23:05:11 | Smallmouth Buffalo |
| 303 | Snagger W | 2007-06-21 09:11:51 | Freshwater Drum |
| 304 | Snagger W | 2007-06-21 09:14:13 | Bluegill |
| 305 | Snagger W | 2007-06-21 09:16:15 | Yellow Perch |
| 306 | Snagger W | 2007-06-21 09:23:01 | Walleye |
| 307 | Snagger W | 2007-06-21 09:23:19 | Largemouth Bass |
| 308 | Snagger W | 2007-06-21 09:25:09 | Black Bullhead |
| 309 | Snagger W | 2007-06-21 09:26:04 | Golden Redhorse |
| 310 | Windknot | 2007-06-21 09:36:08 | Black Bullhead |
| 311 | Windknot | 2007-06-21 09:37:39 | Freshwater Drum |
| 312 | Windknot | 2007-06-21 09:42:29 | Bluegill |
| 313 | pat_the_nat | 2007-06-21 20:07:00 | Black Crappie |
| 314 | Catfish_1 | 2007-06-21 22:31:59 | Silver Redhorse |
| 315 | Catfish_1 | 2007-06-21 22:32:18 | Flathead Catfish |
| 316 | pat_the_nat | 2007-06-22 19:32:11 | Chain Pickerel |
| 317 | aaronbye | 2007-06-22 23:19:59 | White Bass |
| 318 | aaronbye | 2007-06-22 23:20:21 | Longnose Gar |
| 319 | ESubvaria | 2007-06-23 14:23:06 | Northern Pike |
| 320 | catfisher | 2007-06-24 10:16:05 | Smallmouth Bass |
| 321 | catfisher | 2007-06-24 10:20:53 | Channel Catfish |
| 322 | Catfish_1 | 2007-06-24 10:26:45 | White Bass |
| 323 | Catfish_1 | 2007-06-24 10:30:01 | Common Carp |
| 324 | Catfish_1 | 2007-06-24 10:35:39 | Walleye |
| 325 | Snagger W | 2007-06-24 10:39:51 | Yellow Bullhead |
| 326 | Quattro | 2007-06-24 17:10:27 | Freshwater Drum |
| 327 | Quattro | 2007-06-24 17:13:15 | Green Sunfish |
| 328 | Quattro | 2007-06-24 17:25:09 | Sauger |
| 329 | Quattro | 2007-06-24 17:28:03 | Northern Pike |
| 330 | roughfishopen | 2007-06-24 21:38:38 | Northern Rock Bass |
| 331 | aaronbye | 2007-06-24 21:52:17 | Largemouth Bass |
| 332 | aaronbye | 2007-06-24 21:56:52 | Pumpkinseed |
| 333 | Vinnie | 2007-06-24 21:58:09 | Bluegill |
| 334 | Dukebaby | 2007-06-24 22:49:36 | Pumpkinseed |
| 335 | Dukebaby | 2007-06-24 22:52:24 | Yellow Perch |
| 336 | Dukebaby | 2007-06-24 22:54:52 | Walleye |
| 337 | Snagger W | 2007-06-24 23:03:02 | Channel Catfish |
| 338 | Windknot | 2007-06-24 23:05:55 | Channel Catfish |
| 339 | Dukebaby | 2007-06-25 09:23:48 | Shorthead Redhorse |
| 340 | Meadeo | 2007-06-25 15:32:28 | Northern Rock Bass |
| 341 | Meadeo | 2007-06-25 15:43:16 | Fallfish |
| 342 | Meadeo | 2007-06-25 15:44:01 | Redbreast Sunfish |
| 343 | Andy | 2007-06-25 22:46:54 | Brown Bullhead |
| 344 | Andy | 2007-06-25 22:47:43 | Northern Rock Bass |
| 345 | roughfishopen | 2007-06-25 23:12:45 | Brook Trout |
| 346 | Corey | 2007-06-26 00:10:05 | Northern Rock Bass |
| 347 | Corey | 2007-06-26 00:11:05 | Brown Bullhead |
| 348 | castandblast | 2007-06-26 01:25:17 | Northern Rock Bass |
| 349 | castandblast | 2007-06-26 01:26:00 | Northern Pike |
| 350 | castandblast | 2007-06-26 01:26:28 | Longnose Gar |
| 351 | roughfisher4life | 2007-06-27 17:01:06 | Mooneye |
Registered Contestants:
aaronbye, Andy, AvidFly, bigvankyle, bowfingurl, castandblast, catfisher, Catfish_1, Corey, Dr. flatheadzzz, Dukebaby, ElDiablo, Eric Kol, ESubvaria, joe-ay, korilynn87, Matthew, Meadeo, MN bowfin angler, pat_the_nat, Quattro, rankbull, rankbull, roughfisher4life, roughfishopen, saltydog, Snagger W, TheDoczzzBitch, Tim, TonyS, Tyler Holm, Vinnie, Windknot